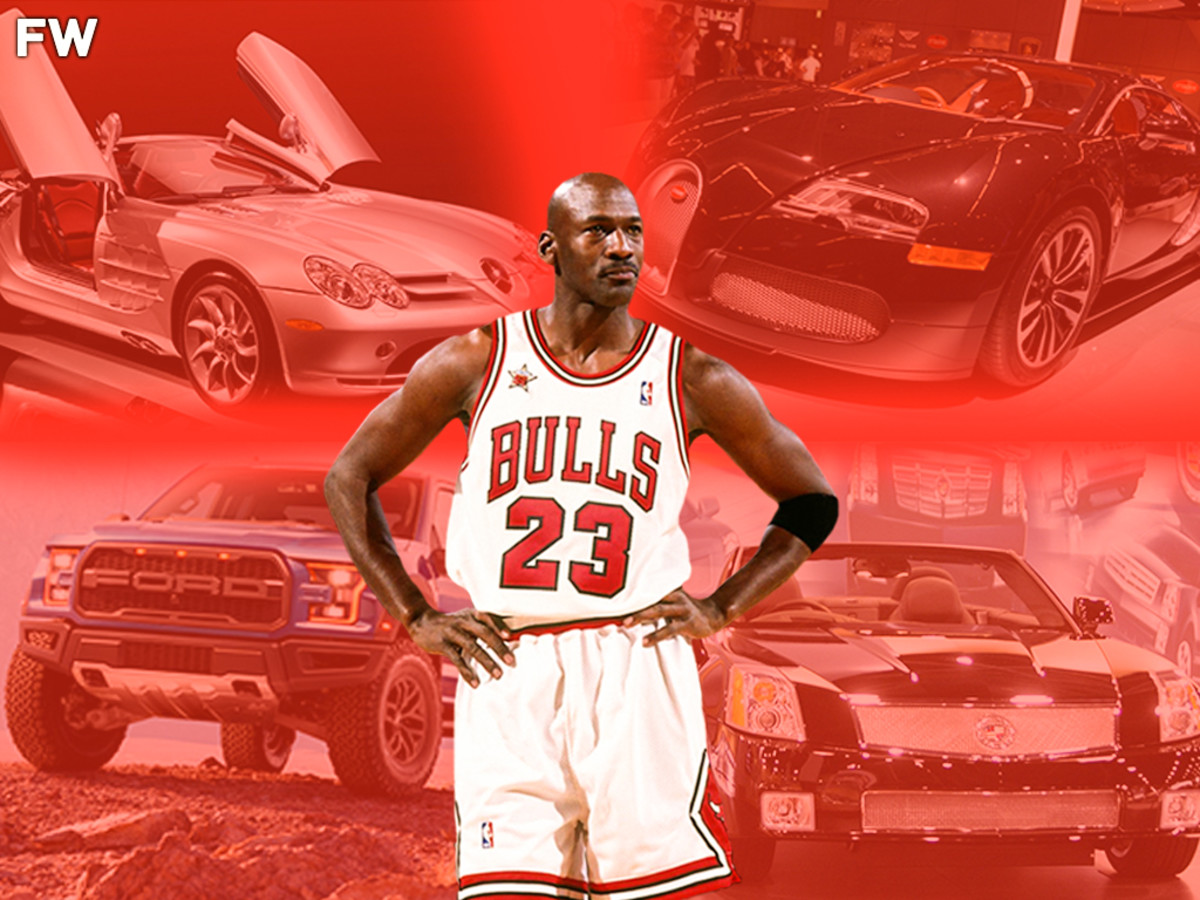 Michael Jordan's Expensive And Luxurious Car Collection
Michael Jordan is widely regarded as the greatest player of all time. The former Chicago
Michael Jordan is widely regarded as the greatest player of all time. The former Chicago Bulls legend won everything on the highest level, capturing 6 championships and 6 Finals MVPs along with 10 scoring titles and 5 MVPs. The shooting guard dominated the game better than any player ever, and Jordan did it on both ends of the court as well. MJ never backed down from any opponent, using his skills and athleticism to give his team an advantage every night.
We all know how great Jordan was off the court as well because we have not seen a rockstar of his status in sports before. As Michael Jackson was to the masses, Michael Jordan was considered to be on a stratosphere of his own as a performer and all-around talent. His name transcended sports because his name was famous around the globe, to even those who rarely followed professional basketball. It seemed that whatever Michael put his mind to, he achieved.
But one aspect of his off-court life was also one of a kind: his car collection. Jordan made hundreds of millions over his illustrious career and it is only natural that the GOAT would spend more than a few dollars on an insane car collection. With Jordan remaining the most stylish player to ever grace the court, it is expected that he will be just as stylish off it. Here is Michael Jordan's legendary car collection that includes one-of-a-kind vehicles that will be hard to find across the globe.
---
Chevrolet Corvette C5 – $58,000
It is widely known that MJ was very fond of Chevy Corvettes early on in his career, and it is reported that he has a host of them. Corvettes are easy on the eye and generally affordable to the public, which is why so many people drive them around in the US. For a superstar as widely known as Jordan, sometimes it is nice to drive around in a car that is considered "achievable" by the masses.
---
Chevrolet Corvette C4 ZR-1 – $58,000
Along with the C5, Jordan has multiple C4s. Michael is seemingly a fan of Corvettes for life, and he was seen riding around in them during the documentary "The Last Dance". Michael always rides in style, and the C4 Corvette was his go-to choice during the 1990s. It is reported that Jordan spent around $25,000 at the time which is approximately $50,000+ today. Michael most likely has a host of Corvettes that we are unaware of, but the C4 ZR-1 is one that we have seen with our very eyes.
---
Land Rover Range Rover HSE 4.6 – $70,000
Most people believe that Jordan is fond of his Rovers, and his Land Rover Range Rover HSE 4.6 is the cream of the crop. Jordan was seen driving this masterpiece during the 90s and was often seen driving to and from practice in one of the best-built vehicles during that time. It is reported that Jordan has many other Range Rovers in his collection because what is better than driving in a large vehicle that supports class and luxury?
---
Ford F-150 Raptor – $70,000
Any American is fond of the Ford Velociraptor, and Jordan is like the masses in that regard. The Ford F-Series vehicles are one of the most widely-sold cars in America and Canada, and we are unsure if Michael Jordan actually owns one. At the very least, the GOAT can easily afford it and can grab one whenever he feels like it if he doesn't already own a few of them.
---
Cadillac XLR-V – $110,000
Loyal to his country, Jordan owned an eye-catching XLR Cadillac in 2006. In his usual red color, Jordan would drive around in a two-seater with a retractable roof and was supercharged as well. Air Jordan never fails to showcase his type: fast cars with red paint and personalized features which included aluminum sill plates in this case. Mike never fails to drive in style, and his XLR-V was one of a kind in the mid-2000s. 
---
Mercedes-Benz SL55 AMG, S-Class, CL65 AMG – $125,000
Similar to any celebrity or millionaire athlete, Michael Jordan has owned a Mercedes Benz in his lifetime. It is reported that Air Jordan owned an S-Class in the early 2000s that had a retractable roof and a supercharged engine.
But before the early 2000s, Jordan was seen driving multiple S-Class Benzes and AMG models that were each worth over $100,000 with ease. A Mercedes Benz is truly one of the best vehicles you can own in terms of quality and experience, and that is why Jordan has had a few of them pre and post-retirement.
---
Porsche 911 Turbo Cabriolet Flat Nose – $200,000
Michael Jordan is fond of his Porsches as he is fond of the Corvettes. The former superstar is reported to have owned the 930, 964, and 993 models during his illustrious NBA career, and the Air Jordan VI pair of shoes was actually inspired by one of the vehicles he owned. It seems Michael sets trends whatever he gets into, and his Porsche collection is epitomized by the 911 Turbo Cabriolet Flat Nose model.
---
Mercedes-Benz S-600 – $202,000
The S600 model was first introduced in the early 1990s and might be one of Jordan's best cars. Michael is known for owning a variety of red cars to showcase their flashy nature, but this one is out of his norm. With black paint and incredible acceleration, Jordan has the perfect car to change the color of his assets when keeping low-key.
---
Porsche 911 Turbo S – $207,000
This 911-generation Porsche 993 Turbo S was also seen during the documentary "The Last Dance". The eye-catching rec sports car famously had the license plate "Air", signaling that the GOAT was in town whenever he was in the driver's seat. It is reported that Michael loves red cars, and this is yet another one that is worth over $200,000 in his collection.
---
Aston Martin DB9 Volante – $213,250
Michael Jordan is believed to be a fan of Aston Martin's, and the DB9 Volante is quite a statement vehicle. This model is the convertible version of the DB9 Coupe and is worth upwards of $200,000, a price that the 6-time NBA champion can certainly afford to pay.
---
Ferrari 512TR – $285,000
Jordan's range of Ferrari's was quite the exciting collection as the superstar dominated the court in the 90s, with the 512 TR model blazing through the streets. Michael also made sure his cars were top-notch, never settling for V8 engines and always driving a V12. MJ's 512TR was also perfectly distinguished by his "M AIR J" license plate as seen in The Last Dance.
---
Ferrari 599 GTB Fiorano – $310,000
Continuing Jordan's list of V12 Ferraris is the 599 GTB Fiorano model. Michael purchased this vehicle post-retirement, opting for a grey color with an "MJ 6" license plate. Over a 6-year period from 2006 to 2012, it is reported that Ferrari only built 3,500 units of the vehicle that Michael had for himself during the mid-2000s. 
---
Ferrari Pista – $330,000
Michael Jordan kept this one a secret but it did not hold forever. He was spotted driving a shiny yellow Ferrari Pista by YouTubers Pedro Malagon and Casey Mecca, smoking his usual cigars and enjoying the sun blazing through his convertible roof. The GOAT seems to have an affinity for Ferrari's but none were more famous than the famous red Maranello that he drove during the 90s.
---
Ferrari 512 Maranello – $331,000
Arguably the most famous car that Michael Jordan has driven, the Ferrari 550 Maranello reportedly has a V12 engine that can deliver over 600 horsepower. The car was Ferrari's two-seat flagship that was debuted in 2006. Incredibly priced far greater than his Corvettes, the Ferrari is the perfect car for a global superstar that could be worth $1 billion. It was amazing to see how Jordan's net worth increased throughout his career resulted in more expensive cars, but the bright-red 550 Ferrari might be the craziest ride that the GOAT owned during the 90s. 
---
Bugatti Veyron Sang Noir – $2,000,000
While the masses do not know for sure, Jordan might be an owner of a $2 million Bugatti Veyron Sang Noir that is one of the flashiest cars ever created. The Bugatti Veyron Sang Noir was most likely purchased by Michael post-retirement, and the reason it is not flooding the news is that the global star wants to keep some things in his life private. This car has to be on his wishlist if he does not own it because driving a Bugatti is truly an experience on its own.
---
Mercedes-McLaren SLR 722 Edition – $3,000,000
It is widely believed that Michael is an owner of this $3 million vehicle, but never drove it enough to make use of it. Fans believe that Michael ended up having the car for sale not long after purchasing it, but owning a vehicle as classy and expensive as this certainly does well for his superstar reputation. Jordan's McLaren, at a reported $3 million, is the most expensive car that the former Bulls superstar has owned over his legendary career. 
Next
Michael Jordan Flexes On Everyone With Amazing Zoom Background Of His Accolades
Michael Jordan On What Values He Would Like To Pass On To His Kids: "Try To Be As Normal And Very Respectful To Others… No Matter How Successful You Become, People Are People."
GOAT Squad By Position: Magic Johnson, Michael Jordan, LeBron James, Tim Duncan, Kareem Abdul-Jabbar
Michael Jordan Asked The Manufacturer Of NBA Uniforms To Make Shorts Longer So He Could Hold On To Them When He Was Out Of Breath
7 Most Skilled Scorers In NBA History: Michael Jordan And Kobe Bryant Are Two-Of-A-Kind